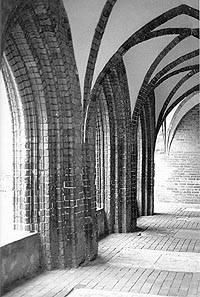 A report to The Danish Chancellery 1799
"At this hospital (in Elsinore) there are ... 6 so-called bedlam or guarding Facilities for lunatics. These are ... made from oak timber and boards and the insides are lined with planks each measuring approx. 1.6 square metres and fitted with a little oblong carved hole through which a little light and fresh air can pass. Furthermore it is equipped with a bed or a bunk and a lavatory".
The size of the bedlams could vary a lot. Each bedlam at Slagelse Hospital Diocese measured about 6 m2.

From Elsinore Hospital Archive.
The bedlams at Our Lady's Church in Aarhus
The bedlams at Our Lady's Church in Aarhus From the 16th century onwards the bedlams in Aarhus were situated at the old monastery of Our Lady's Church. They were closed definitively in 1862, and the last of the mentally ill were transferred here to Jutland Asylum (the present Psychiatric Hospital in Aarhus), which at that time had started accepting incurably ill patients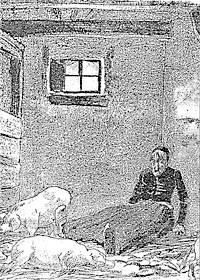 "Cruel confinement:"
"A farmer from Skive
confines his insane
mother in law in a stable.
The way in which these
private cages and stalls
could be used to abuse
the patients they confine,
is a stark contrast to
what science recommends
This motivated a complete
prohibition and
abolishment from the use
of such confinements"
Jens Rasmussen Hubertz:
"About
Mental Asylums in Denmark "
Desperation and the consequences
In 1792 the warden reported that "… a male who was so raving mad that he had broken all the bedlam confinements, not just once or twice but five times …" Therefore he recommended, that the "lunatic were put in a cubicle made from bricks ... The wall is said to be 4 feet (126 cm) thick and over 200 years old ... To put him in shackles ... seems too cruel to a person already so miserable".
Incarceration.
Because the more better off themselves had to take care of their insane relatives, some of the less insane had an active life in their local community. They were able to do minor chores such as feeding the chickens. They were known by their neighbours, and even though they were subject to cruel teasing, they felt a certain degree of security.
If they were having a fit of "rage", they were incarcerated in a wooden cage placed in the farm outbuildings or a stall in the barn – and that was of course not nice at all. More gentle ways were also used, such as family care by the nearest relatives or caretaking in rotation between the servants
"... And this living creature was a man"
In 1821 Chamberlain O. J. Rawert wrote about the bedlam at Our Lady's Church 1819: "At the church there is a bedlam ... I have not seen anything more horrible ... in such a place a living creature had spent 22 years and this living creature was a man".
From "Penia" 1821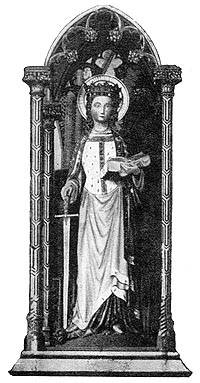 "Saint Dymphna" depicted on
a church board in Gheel in
Belgium. Since medieval time
St. Dymphnas tomb and the
city Gheel has been known as a
place to which pilgrimages were
made by the mentally ill, and
where later several asylums and
psychiatric hospitals were built.
Fra "Penia", 1821.
During the 1830s the bedlam in Aarhus was restored:"... it ... is properly done and consists of two cells ... heated 2 and 2 by a shared heater".
Dr. Frederick Bremer: "The Medical Staff and Medical Asylums", 1840.
The colony in Gheel
In the history of psychiatry the Belgian town Geel (formerly: Gheel, approximately 50 km east of Antwerp) stands as a bright spot, due to its lack of bedlams or other facilities for punishment and has thereby inscribed itself in history as a haven for the insane. It is believed that family care for the insane has existed since the year 600. The first written account dates back to the year 1200.
The first family care
Family care for the insane originates from the saint Sct. Dymphna, whose tomb in Gheel, reportedly, was said to have healing powers. In Gheel the mentally ill from Belgium and the neighbouring countries could seek refuge here and through family care become a part of a family life, assisting in farming and housekeeping. In the middle of the 1800s the administration of the colony changed from the Catholic Church to the Belgian State. The colony still exists today. Psychiatric patients are referred to state-subsidized foster families where some patients have stayed for up to 50 years.